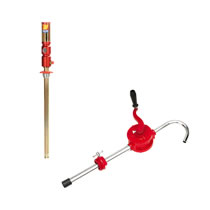 Manual & Air Operated Oil Pumps
Manual and air-operated oil pumps are essential tools for lubrication tasks, enabling controlled dispensing of oils and lubricants with ease and accuracy. These pumps are perfect for use in automotive and industrial settings, providing reliable and consistent application of lubricants.
Our manual oil pumps come in various forms, including lever action pumps and rotary drum pumps, providing options that suit different preferences and requirements. These pumps are easy to operate and require minimal maintenance, making them ideal for use in smaller workshops and garages.
In addition, our air-operated oil pumps provide enhanced efficiency, enabling faster and easier dispensing of lubricants. These pumps are powered by compressed air, ensuring precise and consistent dispensing with less effort and in less time.
When you choose JHM BUTT as your provider for manual and air-operated oil pumps, you can trust in our commitment to quality and reliability.