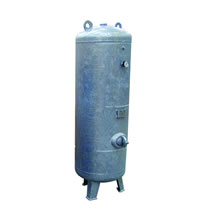 Compressed air receivers, also referred to as a compressed air tanks, act as temporary storage to provide stable airflow and cool down and remove condensation from the air. This helps to extend the life of your air compressor. Depending on the type of air receiver purchased, you may need to monitor the condensate while others may automatically separate the condensate.
Compressed Air Receivers are best placed where compressed air devices are switched on and off frequently.
Browse our range of Compressed Air Receivers below to find the correct size to suit your projects for optimal functionality.