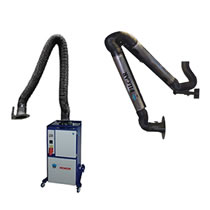 Welding Fume Extraction Mobile Units for Welding from Butts of Bawtry UK Ltd.
The Health & Safety Executive advise that new scientific evidence shows that exposure to welding fumes, including mild steel welding, can cause lung cancer!
Click here to see the HSE Safety Alert
Filcar offer a range of different solutions to this problem from mobile units, bench units and wall mounted arms. Mobile units are available in either single or 3 phase, the Minor & ECO Minor range and inexpensive to operate and replacement filters available at competitive prices. Filcar products are manufactured in Europe and represent a wise investment for employers who are safety conscious.
All available for delivery throughout the UK Nationwide Delivery.